ILAN Bluestone
Friday, November 8, 2019 @ 10:00PM - Doors open at: 10:00PM
Event Description
ILAN BLUESTONE
(Anjunabeats, London)
In the last year, London-based producer Ilan Bluestone has gone from unknown newcomer, to one of the most promising new acts on the international dance music scene. He discovered his love for music at an early age by self-teaching guitar and keyboard, which resulted in a passion for that 'progressive' sound he builds on today.

Inspired by the likes of Above & Beyond, Arty and Swedish House Mafia, as a producer Bluestone always has a little extra in his record bag. From his celebrated "On Our Own", a collaboration... read more
ILAN BLUESTONE
(Anjunabeats, London)
In the last year, London-based producer Ilan Bluestone has gone from unknown newcomer, to one of the most promising new acts on the international dance music scene. He discovered his love for music at an early age by self-teaching guitar and keyboard, which resulted in a passion for that 'progressive' sound he builds on today.

Inspired by the likes of Above & Beyond, Arty and Swedish House Mafia, as a producer Bluestone always has a little extra in his record bag. From his celebrated "On Our Own", a collaboration with Israeli producer Maor Levi, to his eastern inspired "Namaste" and the incredible remix of "Remolino", to remixing for Paul Van Dyk on the recent track "I Don't Deserve You", Bluestone has the ability to shower music lovers with his uplifting, original material and brilliant remixes of some of the best dance music today.

With a dedicated fanbase that is building rapidly, Bluestone is sure to ignite dance floors around the world with his unique and inspiring tracks, which he hopes will put a smile on everyone's faces.
--------------------------------------------------
21+ Welcome | Doors 10pm
Lots of FREE Parking
Come as you are and we will make memories together
ABOUT DISTRICT:
District is a stunning converted warehouse tucked back in the up and coming warehouse district by Sweetwater Brewery. With a wrap around 360 degree balcony, up close and personal DJ booth, Massive D&B sound system, and North America's only Orbis-Fly LED Ceiling, this is the next level of Atlanta venues.
www.liquified.com 
www.districtatlanta.com
show less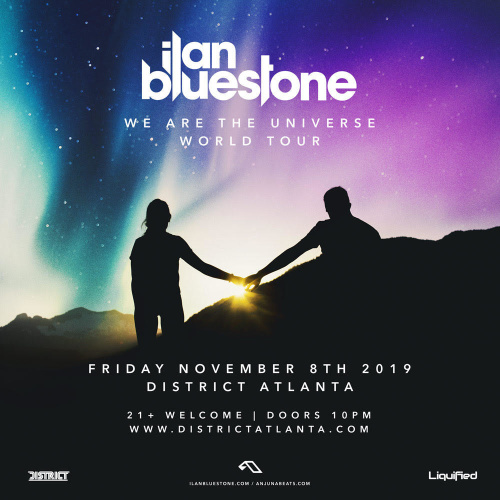 District
269 Armour Dr.
Atlanta, GA 30324, USA