MAK J
Friday, August 23, 2019 @ 10:00PM - Doors open at: 10:00PM
Event Description
MAKJ
MAKJ's creativity and diversity as an artist have shown through in his production work with his tracks deservingly awarding him much critical acclaim and praise. His originals, edits, bootlegs, and remixes have received immense support from renowned artists such as Hardwell, Tiesto, Afrojack, Porter Robinson, Chuckie, Avicii, Laidback Luke, Nicky Romero, Michael Woods, Nervo, Bingo Players, Sander Van Doorn, W&W, Showtek, David Guetta and many others. With the support of these greats in his pocket, MAKJ is now thriving as a producer; he released a slew of hit... read more
MAKJ
MAKJ's creativity and diversity as an artist have shown through in his production work with his tracks deservingly awarding him much critical acclaim and praise. His originals, edits, bootlegs, and remixes have received immense support from renowned artists such as Hardwell, Tiesto, Afrojack, Porter Robinson, Chuckie, Avicii, Laidback Luke, Nicky Romero, Michael Woods, Nervo, Bingo Players, Sander Van Doorn, W&W, Showtek, David Guetta and many others. With the support of these greats in his pocket, MAKJ is now thriving as a producer; he released a slew of hit tracks over the course of 2013, including 3 Beatport Top 10 hits - a collab with Hardwell ("Countdown") on his Revealed label which went #1 on Beatport after 3 days, and two releases on the Bingo Players' Hysteria Records ("Springen" & "Encore"). He also released tracks on Sander Van Doorn's Doorn Records ("Revolution"), Michael Woods' Diffused ("Hakaka"), and Robbie Rivera's Juicy Music ("Hold Up"). He has also released official remixes on mega-dance labels Ultra Records and Spinnin'. 2014 Has already seen MAKJ release "Let's Get F*cked Up," a huge collab on Ultra with megastar MC Lil Jon, as well as "DERP," a collaboration with his good friends Bassjackers. Additionally MAKJ hosts a weekly radio show on Clear Channel's Evolution channel which can also be heard on 101.7fm in Boston and online via iHeartRadio. 
At only 23 years of age, Mackenzie Johnson has achieved an almost unfathomable amount of success. His dedication to his craft and ambition to surpass any and all competitors will further propel MAKJ higher than he could ever have imagined.
--------------------------------------------------
21+ Welcome | Doors 10pm
Lots of FREE Parking
Come as you are and we will make memories together
ABOUT DISTRICT:
District is a stunning converted warehouse tucked back in the up and coming warehouse district by Sweetwater Brewery. With a wrap around 360 degree balcony, up close and personal DJ booth, Massive D&B sound system, and North America's only Orbis-Fly LED Ceiling, this is the next level of Atlanta venues.
www.liquified.com 
www.districtatlanta.com
show less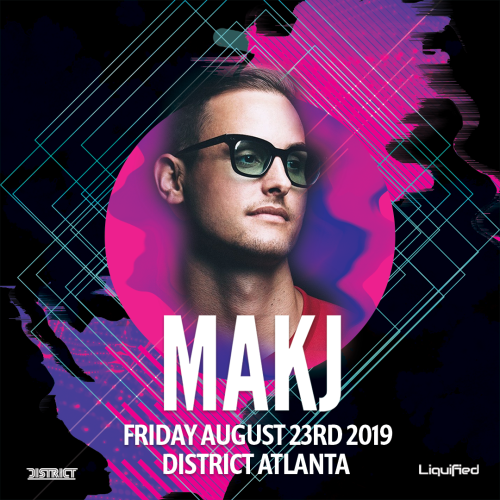 District
269 Armour Dr.
Atlanta, GA 30324, USA