Red Light District
Saturday, August 17, 2019
Event Description
The Background

The Red Light District is famously known for being a sensual experience. There is a sense of mystery and curiosity that come together to create the various experiences you might encounter. Truthfully the place is a one-of-a-kind experience and does not disappoint. 

For the curious

District Atlanta & Tokyo Valentino are coming in hot this evening. The night will be full of sensual sights and groovy sounds as we take you into the underground world known so famously around the globe. Whatever gets your blood... read more
The Background

The Red Light District is famously known for being a sensual experience. There is a sense of mystery and curiosity that come together to create the various experiences you might encounter. Truthfully the place is a one-of-a-kind experience and does not disappoint. 

For the curious

District Atlanta & Tokyo Valentino are coming in hot this evening. The night will be full of sensual sights and groovy sounds as we take you into the underground world known so famously around the globe. Whatever gets your blood pumping you'll be sure to find it here. Come prepared for a night unlike any in the city.
- Complimentary champagne hour starting at 9PM

- Dancers from around the city

- The hottest cocktails around

- Mix and mingle whether taken or single

- Exclusivity
And above all.....THE LIGHTS
More information to come.
show less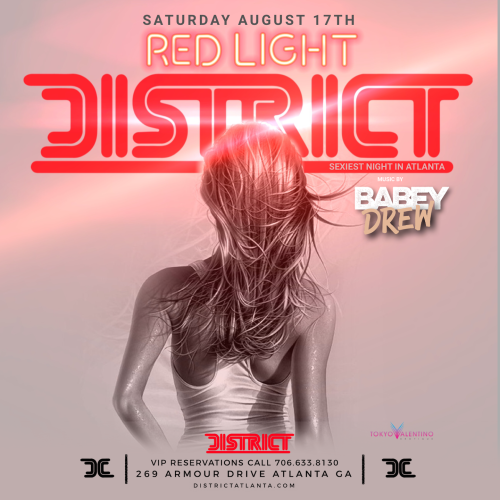 District
269 Armour Dr.
Atlanta, GA 30324, USA