Kyle Watson w/Special Guests Eli & Fur
Friday, July 19, 2019 @ 10:00PM - Doors open at: 10:00PM
Event Description
KYLE WATSON
Kyle is one of South Africa's biggest dance music exports, with a strong following spanning the globe. Whether you're in a small, sweaty club in the heart of the USA or a 15,000-strong open air festival in Brazil, you're likely to hear a Watson record. Releases on dance music's biggest record labels - from Ultra to Atlantic, Dirtybird to This Ain't Bristol - have helped evolve his craft into a unique style of forward thinking house music that blends the dark with the light, sweeping melody and musicality effortlessly amongst the grit and energy of a raw... read more
KYLE WATSON
Kyle is one of South Africa's biggest dance music exports, with a strong following spanning the globe. Whether you're in a small, sweaty club in the heart of the USA or a 15,000-strong open air festival in Brazil, you're likely to hear a Watson record. Releases on dance music's biggest record labels - from Ultra to Atlantic, Dirtybird to This Ain't Bristol - have helped evolve his craft into a unique style of forward thinking house music that blends the dark with the light, sweeping melody and musicality effortlessly amongst the grit and energy of a raw bassline.
+ Special Guests
ELI + FUR
Since their debut release in 2013, Eli & Fur have been perfecting a sound built around infectious melodies with deep driving bass lines topped with their distinguished brooding vocals. Their sound has developed into something unique and has earned them respect from some of the biggest names in the industry.
--------------------------------------------------
21+ Welcome | Doors 10pm
Lots of FREE Parking
Come as you are and we will make memories together
ABOUT DISTRICT:
District is a stunning converted warehouse tucked back in the up and coming warehouse district by Sweetwater Brewery. With a wrap around 360 degree balcony, up close and personal DJ booth, Massive D&B sound system, and North America's only Orbis-Fly LED Ceiling, this is the next level of Atlanta venues.
www.liquified.com 
www.districtatlanta.com
show less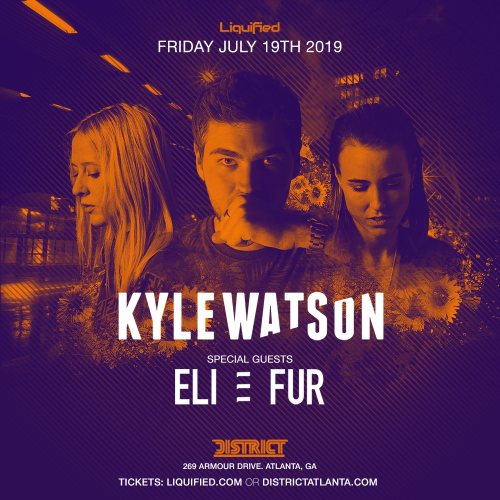 District
269 Armour Dr.
Atlanta, GA 30324, USA