JOHN DIGWEED
Friday, July 12, 2019 @ 10:00PM - Doors open at: 10:00PM
Event Description
Liquified presents another night of Pure Musical Sophistication
JOHN DIGWEED
Some DJ careers are built on hype. John Digweed's career is built on substance. One of the planet's most popular DJs, his sets never fall out of favour with clubbers the world over, as his relentless global gig schedule testifies. From ethereal, swirling cinematic soundscapes to energy-infused bass-bothering tech growlers, a new generation of clubbers are learning what we already know - that there's nothing quite like being locked into a John Digweed... read more
Liquified presents another night of Pure Musical Sophistication
JOHN DIGWEED
Some DJ careers are built on hype. John Digweed's career is built on substance. One of the planet's most popular DJs, his sets never fall out of favour with clubbers the world over, as his relentless global gig schedule testifies. From ethereal, swirling cinematic soundscapes to energy-infused bass-bothering tech growlers, a new generation of clubbers are learning what we already know - that there's nothing quite like being locked into a John Digweed set.

--------------------------------------------------
21+ Welcome | Doors 10pm
Lots of FREE Parking
Come as you are and we will make memories together
ABOUT DISTRICT:
District is a stunning converted warehouse tucked back in the up and coming warehouse district by Sweetwater Brewery. With a wrap around 360 degree balcony, up close and personal DJ booth, Massive D&B sound system, and North America's only Orbis-Fly LED Ceiling, this is the next level of Atlanta venues.
www.liquified.com 
www.districtatlanta.com
show less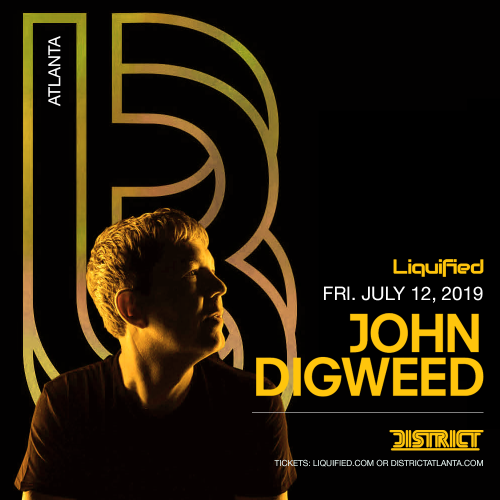 District
269 Armour Dr.
Atlanta, GA 30324, USA