Triple Crown Presents Deux Twins
Saturday, May 18, 2019 @ 10:00PM - Doors open at: 10:00PM
Event Description
FEATURING
Performance by SKAM Artist DEUX Twins
The cities best looking bar staff ready to serve you your favorite drink concoctions
Stunning and seasoned cocktail staff ready to take your Atlanta experience from good to unforgettable
TABLES
Looking to elevate your DEUX TWINS and Status Saturdays experience? Don't sweat repeatedly going to the bar for another round when you can have your own personal VIP space, complete with cocktail waitress and bottle service! Please contact Cortney... read more
FEATURING
Performance by SKAM Artist DEUX Twins
The cities best looking bar staff ready to serve you your favorite drink concoctions
Stunning and seasoned cocktail staff ready to take your Atlanta experience from good to unforgettable
TABLES
Looking to elevate your DEUX TWINS and Status Saturdays experience? Don't sweat repeatedly going to the bar for another round when you can have your own personal VIP space, complete with cocktail waitress and bottle service! Please contact Cortney Foster at 706-633-8130 to secure your reservation today!
TICKETS
GUESTLIST is available with RSVP from 10PM-midnight.
GENERAL ADMISSION includes District Atlanta admission access to see The Deux Twins and take hold of complimentary champagne ladies package from 10PM-3AM
DEUX TWINS
Brigitte and Jaimee Navarrete, identical twin hip hop music DJs and producers born and raised in Los Angeles. They describe themselves as 'DJ Mustard trapped inside their 5'2 bodies.' Their popularity continues to grow, as shown by their upcoming bookings: Drai's Beachclub, The Palms, W Hollywood, Hakakasan and now District Atlanta!
DISTRICT NIGHTCLUB
As soon as you walk through the front doors of District, you immediately know you're in for a treat. The first thing you will notice is the artsy decor and massive columns that hold up the balcony VIP viewing area. District features three fully stocked bars, VIP booths along the dance floor and balcony, and a phenomenal light show production with multicolored balloon-looking lights falling down from the ceiling. The DJs put on quite a show – some of the talent District has signed for the 2018-2019 season include Dillon Francis, Will Clarke, and RL Grime with many more DJ's to come.
DRESS CODE
Dress STYLISH / Casual | Nightclub Attire strongly recommended
HOURS
10PM - 3AM
AGE
21+ Over Exclusive
PARKING
Valet and curbside street parking are available on site. If drinking, Uber and Lyft are strongly recommended.
LOCATION
District Nightclub is centrally located in Buckhead at 269 Armour Drive NE Atlanta, GA 30324 in close proximity to Sweetwater Brewery and The Stave Room.
SECURITY
Plenty of security staff members will be on hand Friday night to maintain a safe and secure environment for all patrons.
QUESTIONS
For additional questions regarding the event, please contact one of our event organizers with Triple Crown Group.
Sam Tokunaga 770-712-9953
Allen Choo 404-569-6863
Josh Tracy 770-367-0101
Please drink responsibly.
——
Please note Eventbrite is the only official ticket source for Deux Twins at District Atlanta.
show less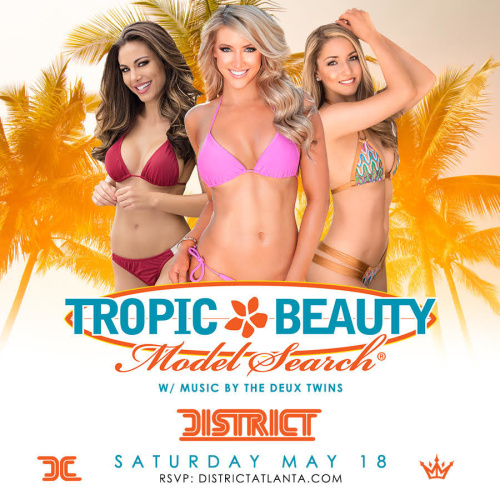 District
269 Armour Dr.
Atlanta, GA 30324, USA
Featured Artist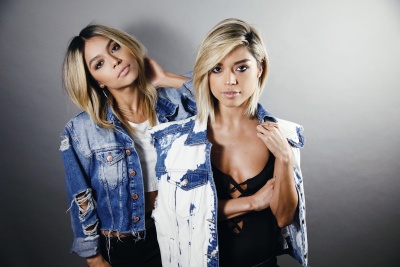 Deux twins
Brigitte and Jaimee Navarrete. Identical twin hip hop music Dj's and producers born and raised in Los Angeles. The duo started learning and being introduced to the music industry in early 2010 when they began interning for a pop music producer. After beginning to learn to mix/dj, in 2012 they called themselves Deux. Booking their own studio time and learning from their peers, while also working as bottle service waitresses in several clubs in Hollywood. With a love for hospitality and hip and hop, it was in early 2015 that they decided to turn a hobby into a career. In 2016 signed to SKAM... read more
Brigitte and Jaimee Navarrete. Identical twin hip hop music Dj's and producers born and raised in Los Angeles. The duo started learning and being introduced to the music industry in early 2010 when they began interning for a pop music producer. After beginning to learn to mix/dj, in 2012 they called themselves Deux. Booking their own studio time and learning from their peers, while also working as bottle service waitresses in several clubs in Hollywood. With a love for hospitality and hip and hop, it was in early 2015 that they decided to turn a hobby into a career. In 2016 signed to SKAM by Sujit Kundu. The duo would tell you that there is "a dj mustard trapped in their 5'2" bodies" and would describe their sets as all hip hop and trap music. show less