Liquified Presents: OLIVER SMITH & SUNNY LAX
Friday, May 17, 2019 @ 10:00PM - Doors open at: 10:00PM
Event Description
OLIVER SMITH
Anjunebeats, London
Oliver Smith has been described as "an excellent DJ" by Armin van Buuren, "the best thing to happen in trance" by Mixmag and "sensational" by DJ Magazine. In recent years the highly successful UK-based DJ and dance music producer has released scores of records and has performed in some of the biggest clubs in the world.
Oliver's forward thinking music is regularly played by leading DJs such as Above & Beyond, Armin van Buuren, Tiesto, Myon & Shane54, and Paul van Dyk. He is one of the most established and best regarded... read more
OLIVER SMITH
Anjunebeats, London
Oliver Smith has been described as "an excellent DJ" by Armin van Buuren, "the best thing to happen in trance" by Mixmag and "sensational" by DJ Magazine. In recent years the highly successful UK-based DJ and dance music producer has released scores of records and has performed in some of the biggest clubs in the world.
Oliver's forward thinking music is regularly played by leading DJs such as Above & Beyond, Armin van Buuren, Tiesto, Myon & Shane54, and Paul van Dyk. He is one of the most established and best regarded Anjunabeats artists and is the only producer (other than label bosses Above & Beyond) to have featured on every single one of the 10 Anjunabeats Volume compilations to date
SUNNY LAX
Anjunabeats, Budapest
His first success came in the year of 2005 after he sent his new track "PUMA" to one of the infamous dance labels Anjunabeats. The trio that are Above & Beyond were so taken back by his demo that they play the record for weeks on end (and didn't waste any time signing him up). As a result his first EP was released (which consisted of both PUMA and Cassiopeia) and within a short time everyone that mattered was in full support, including the world's No. 1 DJ Armin van Buuren who made PUMA the Record Of The Week (and liked it so much it featured on Armin's legendary ASOT Yearmix Album for 2005).
--------------------------------------------------
21+ Welcome | Doors 10pm
Lots of FREE Parking
Come as you are and we will make memories together
ABOUT DISTRICT:
District is a stunning converted warehouse tucked back in the up and coming warehouse district by Sweetwater Brewery. With a wrap around 360 degree balcony, up close and personal DJ booth, Massive D&B sound system, and North America's only Orbis-Fly LED Ceiling, this is the next level of Atlanta venues.
www.liquified.com 
www.districtatlanta.com
show less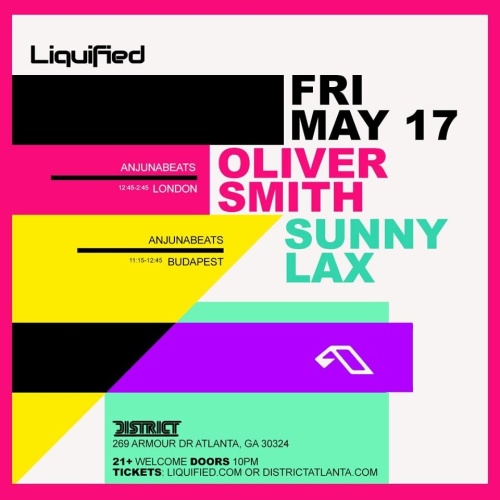 District
269 Armour Dr.
Atlanta, GA 30324, USA