Gentlemens Club w/Blanke
Thursday, September 12, 2019 @ 10:00PM - Doors open at: 10:00PM
Event Description
GENTLEMENS CLUB
Gentlemens Club have been producing music for many years now and have achieved international success in North America, Australia and Europe. In 2017 alone, theyremixed Zomboy, Modestep, Eptic & Must Die!, SKisM and Spag Heddy. They also released their debut mixtape last November, titled "Diamond Tape", which featured 4 originals and remixes from Dubstep and Drum n Bass pioneer's Cookie Monsta and Annix. 

Poised to take over the world, you won't find another more dedicated bass group with their unforgettable live sets and heavyweight... read more
GENTLEMENS CLUB
Gentlemens Club have been producing music for many years now and have achieved international success in North America, Australia and Europe. In 2017 alone, theyremixed Zomboy, Modestep, Eptic & Must Die!, SKisM and Spag Heddy. They also released their debut mixtape last November, titled "Diamond Tape", which featured 4 originals and remixes from Dubstep and Drum n Bass pioneer's Cookie Monsta and Annix. 

Poised to take over the world, you won't find another more dedicated bass group with their unforgettable live sets and heavyweight barrier breaking beats. Get a dose of pure class and make sure to catch them at an event near you
 
BLANKE
In just 3 years, JP Orchison has taken the Blanke project (and his plants) from his native Australia to the World, making the move from Sydney to Los Angeles in early 2019. Inking a deal with United Talent Agency, Blanke has found himself (in his first few months of North American Touring) booked to play on festivals like Paradiso, Global Dance, Illfest Austin, Hard Summer, Dancefestopia & EDC Las Vegas, a regular on lineups for Brands like Deadbeats and Brownies & Lemonade, supporting Illenium in Hawaii, a quick weekend on a bus tour with Adventure Club & headline shows of his own in Tampa, Vancouver and OKC.
--------------------------------------------------
18+ Welcome | Doors 10pm
Lots of FREE Parking
*For VIP Tables contact Cortney @ 706-633-8130
ABOUT DISTRICT:
District is a stunning converted warehouse tucked back in the up and coming warehouse district by Sweetwater Brewery. With a wrap around 360 degree balcony, up close and personal DJ booth, Massive D&B sound system, and North America's only Orbis-Fly LED Ceiling, this is the next level of Atlanta venues.
www.liquified.com 
www.districtatlanta.com
show less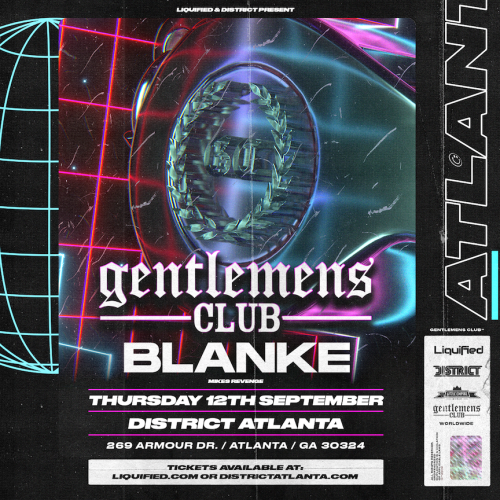 District
269 Armour Dr.
Atlanta, GA 30324, USA