Edge Fashion Show w/ DJ SHIFT
Saturday, June 29, 2019 @ 10:00PM - Doors open at: 10:00PM
Event Description
FEATURING
Performance by DJ Shift (LV)
The cities best looking bar staff ready to serve you your favorite drink concoctions
Stunning and seasoned cocktail staff ready to take your Atlanta experience from good to unforgettable
TABLES
Looking to elevate your DJ Shift and Status Saturdays experience? Don't sweat repeatedly going to the bar for another round when you can have your own personal VIP space, complete with cocktail waitress and bottle service! Please contact Cortney... read more
FEATURING
Performance by DJ Shift (LV)
The cities best looking bar staff ready to serve you your favorite drink concoctions
Stunning and seasoned cocktail staff ready to take your Atlanta experience from good to unforgettable
TABLES
Looking to elevate your DJ Shift and Status Saturdays experience? Don't sweat repeatedly going to the bar for another round when you can have your own personal VIP space, complete with cocktail waitress and bottle service! Please contact Cortney Foster at 706-633-8130 to secure your reservation today!
TICKETS
GUESTLIST is available with RSVP from 10PM-midnight.
GENERAL ADMISSION includes District Atlanta admission access to see DJ Shift and take hold of complimentary champagne ladies package from 10PM-3AM
DJ SHIFT
Hailing from Las Vegas, Justin Bueltel (DJ Shift) has rightfully established himself in the most elite class of DJs, continuously and regularly playing all venues and events ever worth mentioning alongside just about any major artist you can think of in today's pop culture. As the resident DJ since 2004 of the world's largest pool party, better known to all of as you REHAB inside the Hard Rock Hotel. Shift has also resided at Wet Republic since the Grand Opening in 2008 every Friday for Maxim's Hot 100 Contest, located inside the MGM Grand Hotel. Shift has been awarded 'Best Pool DJ' multiple times from The Las Vegas Spin Awards not only for his skills but due to the fact that he has effectively monopolized it for so many years that there has just been no competition. Shift is also known for frequently playing such venues as E11even, Hakkasan, XS, TAO, Marquee, 1OAK and Apex Social Club.
DISTRICT NIGHTCLUB
As soon as you walk through the front doors of District, you immediately know you're in for a treat. The first thing you will notice is the artsy decor and massive columns that hold up the balcony VIP viewing area. District features three fully stocked bars, VIP booths along the dance floor and balcony, and a phenomenal light show production with multicolored balloon-looking lights falling down from the ceiling. The DJs put on quite a show – some of the talent District has signed for the 2018-2019 season include Dillon Francis, Will Clarke, and RL Grime with many more DJ's to come.
DRESS CODE
Dress STYLISH / Casual | Nightclub Attire strongly recommended
HOURS
10PM - 3AM
AGE
21+ Over Exclusive
PARKING
Valet and curbside street parking are available on site. If drinking, Uber and Lyft are strongly recommended.
LOCATION
District Nightclub is centrally located in Buckhead at 269 Armour Drive NE Atlanta, GA 30324 in close proximity to Sweetwater Brewery and The Stave Room.
SECURITY
Plenty of security staff members will be on hand Friday night to maintain a safe and secure environment for all patrons.
QUESTIONS
For additional questions regarding the event, please contact one of our event organizers with Triple Crown Group.
Sam Tokunaga 770-712-9953
Allen Choo 404-569-6863
Josh Tracy 770-367-0101
Please drink responsibly.
——
Please note Eventbrite is the only official ticket source for DJ Shift at District Atlanta.
show less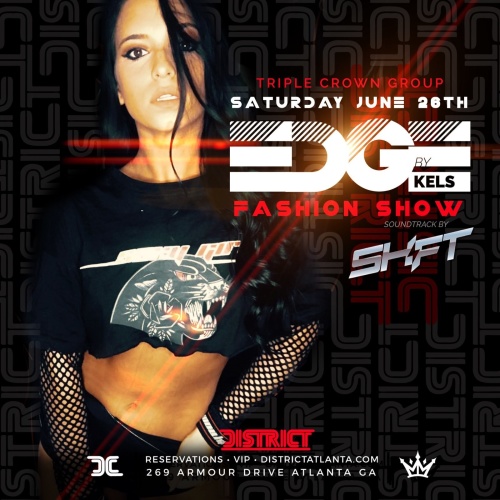 District
269 Armour Dr.
Atlanta, GA 30324, USA