SASHA | Friday March 22ND 2019 | District Atlanta
Friday, March 22, 2019 @ 10:00PM - Doors open at: 10:00PM
Event Description
Liquified presents another night of Pure Musical Sophistication from the man like

SASHA
The best DJs know that Djing is first about being able to read people and then about being able to tap into that human experience and take it on a journey. Sasha has always been noted for being a master at this,If there are boundaries yet to be broken, then you can bet that Sasha has got them in the crosshairs. He's been battering them down since Shelley's, The Hacienda, Renaissance and Twilo; from Airdrawndagger to Invol3r. Since 2011, he's carved a new way with his... read more
Liquified presents another night of Pure Musical Sophistication from the man like

SASHA
The best DJs know that Djing is first about being able to read people and then about being able to tap into that human experience and take it on a journey. Sasha has always been noted for being a master at this,If there are boundaries yet to be broken, then you can bet that Sasha has got them in the crosshairs. He's been battering them down since Shelley's, The Hacienda, Renaissance and Twilo; from Airdrawndagger to Invol3r. Since 2011, he's carved a new way with his increasingly pivotal Last Night On Earth imprint, the label that has introduced into its family fiercely forward-thinking producers like My Favourite Robot's James Teej, Simon Baker, ThermalBear, Ejeca, Ghosting Season, Max Cooper and Knox.


--------------------------------------------------
21+ Welcome | Doors 10pm
Lots of FREE Parking
Come as you are and we will make memories together
ABOUT DISTRICT:
District is a stunning converted warehouse tucked back in the up and coming warehouse district by Sweetwater Brewery. With a wrap around 360 degree balcony, up close and personal DJ booth, Massive D&B sound system, and North America's only Orbis-Fly LED Ceiling, this is the next level of Atlanta venues.
www.liquified.com 
www.districtatlanta.com
show less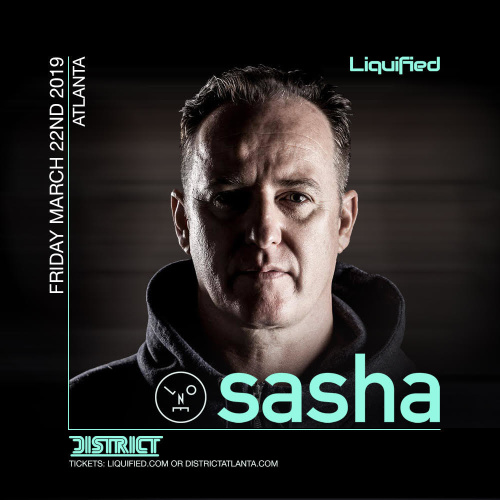 District
269 Armour Dr.
Atlanta, GA 30324, USA