District & Liquified Presents: Resonate feat. Sam Feldt
Friday, March 15, 2019 @ 10:00PM - Doors open at: 10:00PM
Event Description
Liquified is pleased to present

SAM FELDT
'Uplifitng' is without a doubt the word that best decribes Dutch DJ, producer, platinum selling artists and sustainability pioneer, Sam Feldt. Having built a career upon his disctincivly feel-good sound, Sam already has a double album and a multitude of top selling releases under his belt.While only in his early twenties, Dutchman Sam Feldt has become quite the deep house tastemaker of his day. With amazing remix work as well as solid... read more
Liquified is pleased to present

SAM FELDT
'Uplifitng' is without a doubt the word that best decribes Dutch DJ, producer, platinum selling artists and sustainability pioneer, Sam Feldt. Having built a career upon his disctincivly feel-good sound, Sam already has a double album and a multitude of top selling releases under his belt.While only in his early twenties, Dutchman Sam Feldt has become quite the deep house tastemaker of his day. With amazing remix work as well as solid hits like the early 2015 release 'Show Me Love', which proved to be his definite claim to fame, he's one of the DJs to watch when it comes to a new sound flooding the scene.

--------------------------------------------------
21+ Welcome | Doors 10pm
Lots of FREE Parking
Come as you are and we will make memories together
ABOUT DISTRICT:
District is a stunning converted warehouse tucked back in the up and coming warehouse district by Sweetwater Brewery. With a wrap around 360 degree balcony, up close and personal DJ booth, Massive D&B sound system, and North America's only Orbis-Fly LED Ceiling, this is the next level of Atlanta venues.
www.liquified.com 
www.districtatlanta.com
show less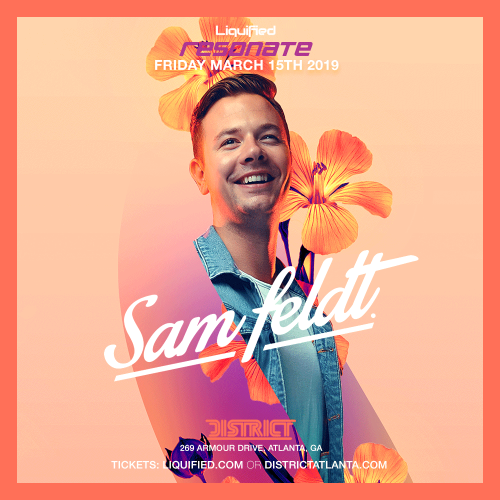 District
269 Armour Dr.
Atlanta, GA 30324, USA