SAUCY CITY: SPAG HEDDY, BOMMER, AL ROSS | Fri Feb 21 2019
Friday, February 22, 2019 @ 10:00PM - Doors open at: 10:00PM
Event Description
SPAG HEDDY
Straight from the kitchens of Pastanistan, SPAG HEDDY delivers your daily need for tomato bass. Releases like Oh My! [Never Say Die], OG Meatball EP [Buygore] and official remix for platinum hit Don't Let Me Down (The Chainsmokers ft. Daya) made waves in the world of bass music, and have secured him a spot amongst the bass lords. SPAG made name in the bass market giant USA with several headlined tours, from festival main stages to intimate and raw spots, leaving every witness destroyed with a snapped neck. Don't miss out and be embraced by his noodly... read more
SPAG HEDDY
Straight from the kitchens of Pastanistan, SPAG HEDDY delivers your daily need for tomato bass. Releases like Oh My! [Never Say Die], OG Meatball EP [Buygore] and official remix for platinum hit Don't Let Me Down (The Chainsmokers ft. Daya) made waves in the world of bass music, and have secured him a spot amongst the bass lords. SPAG made name in the bass market giant USA with several headlined tours, from festival main stages to intimate and raw spots, leaving every witness destroyed with a snapped neck. Don't miss out and be embraced by his noodly appendage.
 
BOMMER
Bommer (Zack Bommer) is a twenty-five year old dubstep producer from St. Louis, Missouri. Bommer is a testament of what dedication and perseverance can lead to. From starting at local bars before dubstep was a household name, Bommer put countless hours a day into his craft. Fast-forward four years, Bommer has had releases on labels such as Smog, Prime Audio, Subquake Audio, Octane Audio, and GMB Records. In addition to his production, Bommer's mixing skills are second to none. With flawless double drops to clean transitions, Bommer can keep any dance floor entertained.
 
AL ROSS
SUPPORT FROM ZUBAH (liquified)
--------------------------------------------------
18+ Welcome | Doors 10pm
Come as you are and lets make memories together
ABOUT DISTRICT:
District is a stunning converted warehouse tucked back in the up and coming warehouse district by Sweetwater Brewery. With a wrap around 360 degree balcony, up close and personal DJ booth, Massive D&B sound system, and North America's only Orbis-Fly LED Ceiling, this is the next level of Atlanta venues.
www.liquified.com 
www.districtatlanta.com
TAGS
show less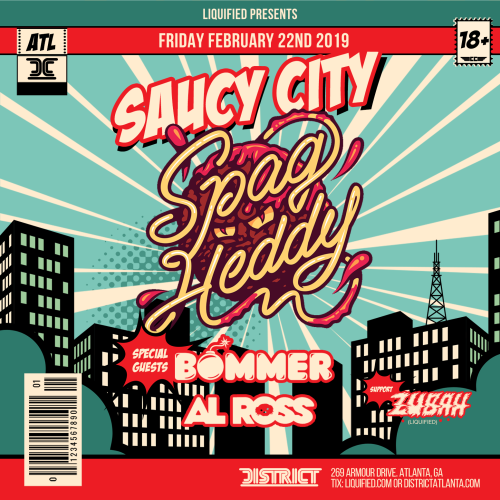 District
269 Armour Dr.
Atlanta, GA 30324, USA