Resonate: Feat. Will Clarke
Friday, November 23, 2018 @ 10:00PM - Doors open at: 10:00PM
Event Description
WILL CLARKE:
Like many artists Will Clarke's sonic palette comes his experiences and influences from home and afar. The roots of his sound stem from both his home town of Bristol, and his seasonal home in Ibiza, which have forged Will's style; a style that fuses the best of Bristol's bass elements with the upfront house music sensibilities of the white isle. Talking of his approach to productions Will says "I make music for clubbers, not DJs. I sample a lot of old school rave tracks from the 90s, with 21st Century production techniques." Then add those little... read more
WILL CLARKE:
Like many artists Will Clarke's sonic palette comes his experiences and influences from home and afar. The roots of his sound stem from both his home town of Bristol, and his seasonal home in Ibiza, which have forged Will's style; a style that fuses the best of Bristol's bass elements with the upfront house music sensibilities of the white isle. Talking of his approach to productions Will says "I make music for clubbers, not DJs. I sample a lot of old school rave tracks from the 90s, with 21st Century production techniques." Then add those little influences from Bristol and Ibiza and you will understand why Will's music holds such a broad appeal and is often supported by the cream of the crop in the industry.
--------------------------------------------------
18+ Welcome | Doors 10pm
Lots of FREE Parking
Come as you are and we will make memories together
ABOUT DISTRICT:
District is a stunning converted warehouse tucked back in the up and coming warehouse district by Sweetwater Brewery. With a wrap around 360 degree balcony, up close and personal DJ booth, Massive D&B sound system, and North America's only Orbis-Fly LED Ceiling, this is the next level of Atlanta venues.
show less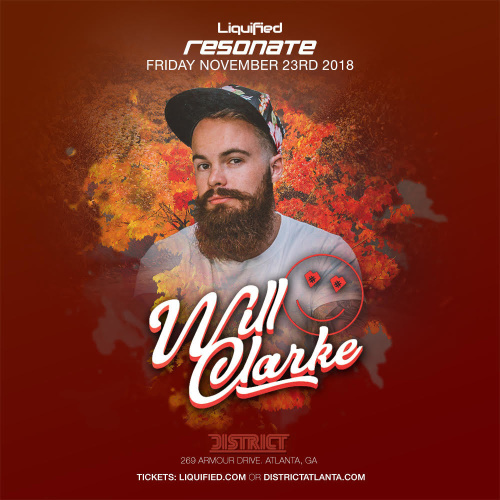 District
269 Armour Dr.
Atlanta, GA 30324, USA