Resonate: Feat. Ducky
Friday, November 2, 2018 @ 10:00PM - Doors open at: 10:00PM
Event Description
DUCKY is a SF-bred, LA-based producer and DJ who has been playing clubs since she was 13 (via fake ID vibes). For years she's been quietly shaping her distinct sound: a range of hypnotic warehouse and experimental club productions, stretching from soft and intimate to full-on hardcore. Moving west from New York on a whim, she quickly bubbled up in the LA and internet scenes with releases on OWSLA's sister label NEST, Japanese tastemakers Trekkie Trax, Ryan Hemsworth's Secret Songs, Activia Benz, and more, alongside her own free weekly release series known as "Rave... read more
DUCKY is a SF-bred, LA-based producer and DJ who has been playing clubs since she was 13 (via fake ID vibes). For years she's been quietly shaping her distinct sound: a range of hypnotic warehouse and experimental club productions, stretching from soft and intimate to full-on hardcore. Moving west from New York on a whim, she quickly bubbled up in the LA and internet scenes with releases on OWSLA's sister label NEST, Japanese tastemakers Trekkie Trax, Ryan Hemsworth's Secret Songs, Activia Benz, and more, alongside her own free weekly release series known as "Rave Toolz".
With cosigns ranging from Skrillex to NPR Music, DUCKY's raw emotionality and expert production have earned her a space beyond any one scene. You can find her premiering a track through Fader one day, and slaying a warehouse rave in Los Angeles the next. And with the launch of her own imprint Quackhouse Records, a grip of underground hits this year, and multiple releases on deck for the rest of 2017, her genre-free journey has just begun.
--------------------------------------------------
18+ Welcome | Doors 10pm
Lots of FREE Parking
Come as you are and we will make memories together
ABOUT DISTRICT:
District is a stunning converted warehouse tucked back in the up and coming warehouse district by Sweetwater Brewery. With a wrap around 360 degree balcony, up close and personal DJ booth, Massive D&B sound system, and North America's only Orbis-Fly LED Ceiling, this is the next level of Atlanta venues.
show less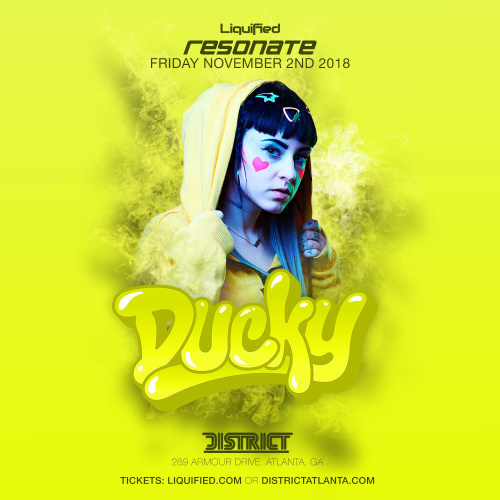 District
269 Armour Dr.
Atlanta, GA 30324, USA