ELEPHANTE | Friday April 19th 2019 | District Atlanta
Friday, April 19, 2019 @ 10:00PM - Doors open at: 10:00PM
Event Description
ELEPHANTE
Elephante is the recording and performing moniker of Tim Wu, a Los Angeles-based EDM DJ/producer known for his big-room progressive house anthems and remixes of artists ranging from Clean Bandit to Lorde. He generally tends to produce pop-leaning vocal dance tracks, but he dips into slower, trap-inspired numbers as well. Born in Ann Arbor, Michigan in 1989, Wu began playing music at an early age, receiving classical piano training before teaching himself to play guitar. He graduated from Harvard University in 2011 and initially tried to break into... read more
ELEPHANTE
Elephante is the recording and performing moniker of Tim Wu, a Los Angeles-based EDM DJ/producer known for his big-room progressive house anthems and remixes of artists ranging from Clean Bandit to Lorde. He generally tends to produce pop-leaning vocal dance tracks, but he dips into slower, trap-inspired numbers as well. Born in Ann Arbor, Michigan in 1989, Wu began playing music at an early age, receiving classical piano training before teaching himself to play guitar. He graduated from Harvard University in 2011 and initially tried to break into the music business as an acoustic singer/songwriter before switching to electronic dance music. He started out creating remixes before producing original tracks, and his first EP was released in 2013. Since then, he's released dozens of tracks and remixes, with songs like "I Want You" and "Age of Innocence" receiving millions of online streams. His debut full-length, I Am the Elephante, appeared in 2016. "Troubled," a collaborative single with singer Deb's Daughter, appeared in early 2017.

--------------------------------------------------
21+ Welcome | Doors 10pm
Lots of FREE Parking
Come as you are and we will make memories together
ABOUT DISTRICT:
District is a stunning converted warehouse tucked back in the up and coming warehouse district by Sweetwater Brewery. With a wrap around 360 degree balcony, up close and personal DJ booth, Massive D&B sound system, and North America's only Orbis-Fly LED Ceiling, this is the next level of Atlanta venues.
www.liquified.com 
www.districtatlanta.com
show less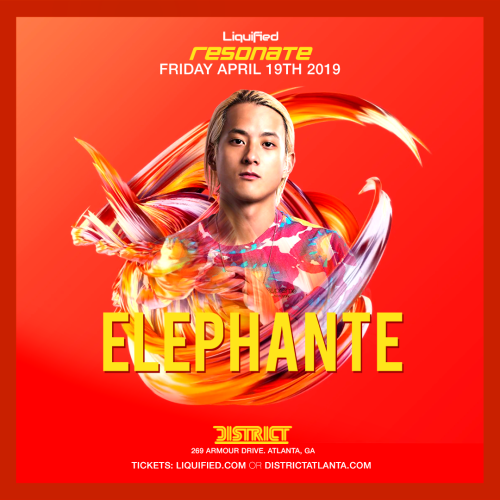 District
269 Armour Dr.
Atlanta, GA 30324, USA